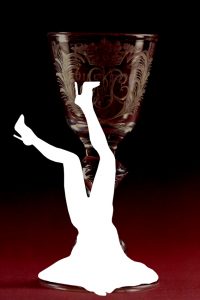 Le silhouettes della De Barros giocano ad esserci e scomparire, a nascondersi e sbucare parzialmente dai bordi ornati di oggetti artigianali per salotti. Tra aggiornati Gio Ponti e rimandi ad avanguardie decorative miste, i movimenti statici e i dinamismi rimasti incastrati in mezzo a rotazioni mancate seducono con profili invidiabili, tacchi a spillo e capezzoli eretti.
Ammiccanti logotipi intraprendono balletti plastici all'insegna del vedononvedo, della riconoscibilità per corrispondenze che combaciano e si adattano come in un'utopia glamour che deride le ossessioni e dipendenze da femminilità ricorrenti e ridondanti. Finti errori figurativi,  trappole fashion in risposta ai ciclici perfezionismi multimediali della donna in ombra le cui sembianze sempre uguali rendono il pathos una tecnica pubblicitaria.
Stefano Elena
FABIANA DE BARROS
The silhouettes of De Barros play at being there and disappearing again, at hiding themselves and reappearing partially out of the borders of handcrafted articles for the sitting room. Between updated Pio Ponti's and references to mixed decorative avant-gardes, the static movements and the dynamics that are caught in the middle of missed rotations seduce with enviable profiles, stiletto heels and erect nipples. Winking logotypes undertake plastic ballets under the banner of "IseebutIdon'tsee", of recognizability by affinities that fit together and adapt themselves as in a glamorous utopia that laughs at the obsessions and recurrent and redundant dependencies of femininity. Fake figurative errors, fashion traps as an answer to multimedia cyclic perfectionisms of the woman in the shade whose never changing looks make pathos an advertising technique.
Stefano Elena
Clicca sull'opera per vedere l'allestimento a tutta pagina