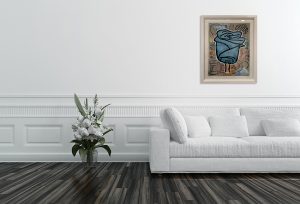 Donald Baechler (americano, nato nel 1956) è un artista contemporaneo celebrato e riconosciuto a livello internazionale. Il suo lavoro è solitamente reso in uno stile che combina innocenza e raffinatezza. Nacque a Hartford, CT, come secondo figlio di genitori quaccheri.
All'età di cinque anni, aveva sviluppato un interesse per il disegno e la pittura. Il suo talento artistico è stato in gran parte influenzato dalle visite al Wadsworth Antheneum Museum of Art di Hartford, CT, e da opere di artisti famosi come l'artista pop Andy Warhol.
 Baechler ha ricevuto la sua educazione formale in Arte presso il College of Art, Maryland Institute di Baltimora, MD, dal 1974 al 1977, e successivamente a Cooper Union, New York, NY. Nel 1978 si iscrive a un corso biennale presso la Staatliche Hochschule für Bildende Künste di Francoforte sul Meno, in Germania.
Baechler tornò negli Stati Uniti in un momento in cui il movimento neo-espressionista stava guadagnando popolarità tra gli artisti americani.
Divenne un grande luminare di questo movimento insieme ad altri artisti neo-espressionisti come Jean-Michel Basquiat. Il metodo di Baechler prevedeva l'uso di colori vividi ed esuberanti per creare immagini energiche.
Ha contribuito notevolmente al movimento incorporando immagini pop, simboli e icone commerciali nelle sue opere. All'inizio degli anni 1980, l'artista era diventato maggiorenne come pittore neo-espressionista. La maggior parte delle sue immagini mondane sono registrate su diapositive; questa vasta collezione di dipinti avvincenti e opere grafiche può essere vista nel suo studio a Lower Manhattan.
Il suo lavoro è stato presentato in mostre collettive come Notable enchman alla Kurnatowski Gallery di NewYork nel 2011.
Alcune delle recenti mostre personali di Baechler includono la mostra Donald Baechler: Painting and Sculpture nel 2012 al Fisher Landau Center for Art di Long Island City, NY, la mostra Sculptures and Paintings alla McClain Gallery di Houston, TX, nel 2011, e la mostra Recent Works allo Studio d'Arte Raffaelli di Trento, Italia.
Le sue opere possono essere ammirate anche alla Tony Shafrazi Gallery di New York. Baechler vive vicino al suo studio a New York City.