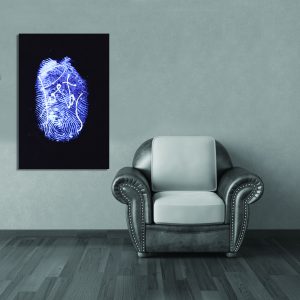 Marco Nereo Rotelli è nato a Venezia nel 1955, dove si è laureato in architettura nel 1982.
Da anni persegue una ricerca sulla luce e sulla dimensione poetica che Harald Szeemann ha definito come "un ampliamento del contesto artistico". Rotelli ha creato negli anni una interrelazione tra l'arte e le diverse discipline del sapere. Da qui il coinvolgimento nella sua ricerca di filosofi, musicisti, fotografi, registi, ma principalmente il suo rapporto è con la poesia che, con il tempo, è divenuta un riferimento costante per il suo lavoro.
Nel 2000 ha fondato il gruppo Art Project, oggi diretto da Elena Lombardi e composto da giovani artisti ed architetti, con il quale realizza numerosi interventi e progetti di installazione urbana.Questo suo impegno gli è valso la partecipazione a sette edizioni della Biennale di Venezia, oltre a numerose mostre personali e collettive.È stato invitato dalla Northwestern University (Chicago) come "artist-in-residence" (inverno 2013).Le sue opere sono presenti in musei e importanti collezioni private di tutto il mondo.
Di lui hanno scritto alcuni tra i più importanti critici d'arte, oltre a poeti, scrittori, filosofi e personalità della cultura internazionale, alimentando un'importante raccolta bibliografica sul suo lavoro. Marco Nereo Rotelli was born in Venice in 1955, where he graduated in architecture in 1982. Now he works and lives in Milan and Paris.
For years Rotelli researched light and the poetic dimension, which Harald Szeemann has defined "an expansion of the artistic contest". Rotelli has created a solid relationship between art and other disciplines of knowledge for years. Involving in his research as a onsequence, philosophers, musicians, photographers, film directors, but mainly the relationship is between his art and poetry, which has become a constant reference to his work. In 2000 he founded the group Art Project, directed by Elena Lombardi and composed by young artists and architects with whom he realizes numerous interventions and urban installation projects. He was invited by Northwestern University as "artist-in-residence" (Winter 2013). This involvement has seen him participate to seven editions of the Biennale di Venezia, as well as numerous individual and collective exhibitions.
His works of art are in important museums and private collections all over the world. Important art critics, as well as poets, writers, philosophers and international cultural celebrities have written about him, increasing an important bibliographic collection on his work.
Clicca sull'opera per vedere l'allestimento a tutta pagina