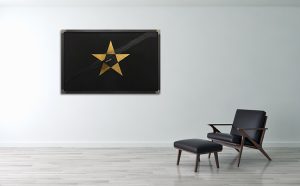 Gilberto Zorio è nato ad Andorno Micca nel 1944, vive e lavora a Torino. Tra i pionieri dell'Arte Povera, si differenzia da altri colleghi del gruppo per la sua eterogeneità di intenti e per la sua essenza di "alchimista". Dopo gli studi a Torino, si avvicina alla scultura bronzea frequentando botteghe di fusione, colorifici e ferramenta. La sua ricerca tende a evidenziare le potenzialità espressive dei materiali industriali come eternit, cemento, gomma, ferro, esaltandone le qualità di energia e di tensione. Dalla metà degli anni '60, s'indirizza verso una processualità che rende l'opera continuamente mutevole, rinnovando il linguaggio della scultura liberandola dalla fissità e pesantezza che tradizionalmente le sono proprie. Attivando reazioni chimiche e fisiche, occupando lo spazio aereo e quello sonoro, le opere sono coinvolte in un ciclo vitale per il quale il tempo è una componente importante perché solo il trascorrere delle ore rende visibili le trasformazioni. Nelle installazioni di Gilberto Zorio si fondono luci al neon, resistenze elettriche, suoni metallici, con simboli arcaici come la stella a cinque punte ed eroici come la canoa.
Oltre alle numerose partecipazioni a rassegne con il gruppo dell'Arte Povera, sue esposizioni personali si sono tenute in istituzioni quali: Castello di Rivoli, Torino (2017), MAXXI, Roma (2011), MACRO, Roma (2010), MAMbo, Bologna e Palazzo Frissioni, Bergamo (2009), Castillo de Santa Barbara, Alicante (2006), Institut Mathildenhöhe, Darmstadt (2005), Dia, New York (2001), Istituto Italiano di Cultura, Toronto (2000), Piazza del Plebiscito, Napoli (1998), Galleria Civica d'Arte Contemporanea, Trento (1996), Institute of Contemporary Art, Amsterdam, Centro Luigi Pecci, Prato e Musée d'Art Moderne et Contemporain, Nizza (1992), The Tel Aviv Museum e Stedelijk van Abbemuseum, Eindhoven (1987), Centre d'Art Contemporain, Ginevra e Centre Georges Pompidou, Parigi (1986), Württembergischer Kunstverein, Stoccarda (1985), Centro d'Arte Contemporanea, Siracusa (1983), Loggetta Lombardesca, Ravenna (1982), Stedelijk Museum, Amsterdam (1979), Kunstmuseum, Lucerna (1976). Gilberto Zorio ha preso parte a prestigiose rassegne internazionali: Biennale di Venezia (2013, 1997, 1995, 1986, 1980, 1978), Documenta, Kassel (1992, 1972), Biennale di Sydney (1976), Quadriennale di Roma (2005, 1973).
Tra le collettive in istituzioni: Philadelphia Museum of Art e Parc Culturel de Rentilly (2018), Centro Luigi Pecci, Prato e GNAM, Roma (2017), The Museum of Modern Art, Oslo (2016), MoMA, New York (2013), MADRE, Napoli (2011), Institut d'Art Modern, Valencia (2009), Palazzo Grassi, Venezia (2008), Castello di Rivoli, Torino (2007), The Estorick Collection, Londra (2005), Musée de Grenoble (2004), Museum of Contemporary Art, Sydney (2002), MAMAC, Nizza (2000), Galleria d'Arte Moderna, Bologna (1998), Kölnischer Kunstverein, Colonia (1997), Guggenheim Museum, New York (1994, 1985), Peggy Guggenheim Foundation, Venezia (1993), Fundação de Serralves, Porto (1991), Royal Accademy of Art, Londra (1989), Stedelijk Museum, Amsterdam (1980), The Art Institute, Chicago (1977), Kunstverein, Monaco (1971), Städtische Kunsthalle, Düsseldorf (1968). La sua collaborazione con Galleria Fumagalli inizia nel 2001 quando allestisce in galleria diversi lavori tratti dal suo laboratorio alchemico. Per l'occasione è pubblicato un catalogo con testo di Danilo Eccher e interventi di amici, artisti, critici e galleristi. Del 2005 è la pubblicazione, in coedizione con Hopefulmonster, di un volume che accompagna la mostra all'Institute Mathildenhoe a Darmstadt.