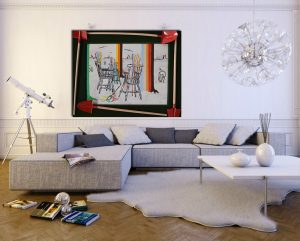 Astrattismo e simbolismo dalle larghe pennellate; il viaggio di Monti è decisamente introspettivo, una ricerca spasmodica del significato più profondo del percorso artistico, talvolta indecifrabile, talvolta così chiaro da sembrare incomprensibile.
Elena Casero
Abstractism and symbolism of large brushstrokes; the journey of Monti is decidedly introspective, a spasmodic search for the deepest meaning of the artistic course, sometimes indecipherable, sometimes so clear as to appear incomprehensible.
Elena Casero
Biografia
Alberto Monti è un artista di Anzio. La sua carriera comincia trent'anni fa rappresentando in diverse espressioni artistiche (olio su tela, materici) la figura-simbolo del "Cavaliere Errante". La mostra parte dalla figura del "Cavaliere Errante", ricerca trentennale dell'Artista, affascinato dal concetto espressionistico e lirico sull'Uomo Cavaliere Errante, guerriero, portatore di pace e mai offensivo. Nel viaggio nel mondo de "I Sogni del Cavaliere Errante", si inserisce nell'anno 2006 una ricerca sul "Saio di San Francesco", nato da una ispirazione durante un viaggio compiuto da Alberto Monti ad Assisi. Il Saio è un simbolo ancora attuale al punto tale che Monti, riprendendo la pittura graffiante originaria dei primi anni, lo ha proiettato nel cosmo del "Cavaliere Errante e dei Suoi Sogni". Una prima mostra, specifica sul Saio di San Francesco, si è tenuta nel 2009 all'interno della Chiesa di S. Andrea , in piazza S. Gregorio al Celio, a Roma. La prossima si terrà dal 3 al 4 maggio al Palazzo Duca di York di Frascati. Ne è in programma un'altra – dal 24 ottobre al 4 novembre 2012 – presso Palazzo Valentini, Sala Egon Von Fustenberg, sede della Provincia di Roma. La mostra che si terrà nella Sede Vescovile della Diocesi Tuscolana, sarà allestita nei locali della Rocca, una volta adibiti a scuderie, che sono stati trasformati recentemente dal Vescovo Raffaello Martinelli, estimatore dell'opera sul "Saio di San Francesco", in modo di creare uno spazio molto suggestivo e funzionale per eventi artistici e culturali.
Clicca sull'opera per vedere l'allestimento a tutta pagina